Our partner organizations host an array of events throughout the year. When these events align with our mission to ignite economic opportunity and regional prosperity, we share them with our audience.
---
POSiBLE L.A.'s Entrepreneur Summit 2017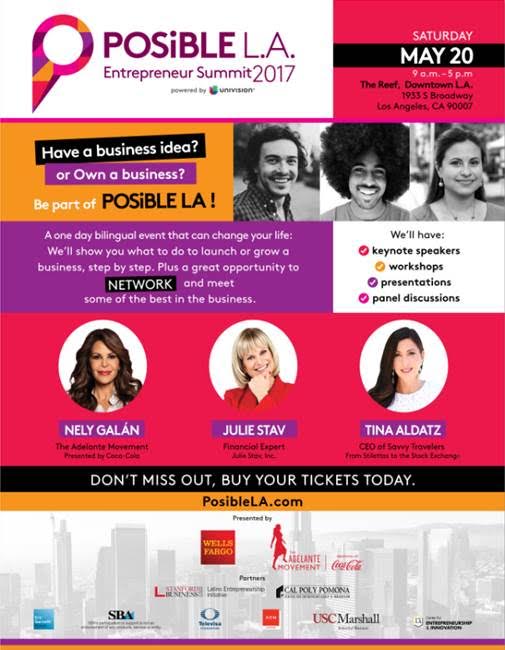 Do you own a business or simply have a business idea? Join POSiBLE LA, powered by Univision, on Saturday, May 20th, to learn how to make your business grow, or make that idea happen. This event will give you the opportunity to network, meet and learn from LA's top entrepreneurs and self-made professionals, and even visit different "zones" throughout the day. These "zones" will focus on specific business segments, such as on how to plan a business idea, finance it, as well as many others that will dive deep into what you need to know about each one.
 LAEDC members, get your tickets TODAY to get a $5 off discount code for all your members, good until May 19th!
Date: Saturday, May 20th, 2017
Location:  The REEF
Time: 9:00 AM – 5:00 PM 
For further details, please visit POSiBLE LA.
---
LACI Food Waste Workshop
Did you know that one-third of all food produced is wasted? Join Los Angeles Cleantech Incubator (LACI) on Wednesday May 24th for FREE, to learn how food waste affects Southern California and how you can help it get close to zero waste. Agenda includes two speaker presentations and a panel discussion featuring local experts that will answer questions such as:
What changes can we make in our food production and supply systems to address this issue?
Are there technologies and policies we can implement to make food waste a thing of the past?
How are organizations and businesses currently dealing with this problem?
What can your organization do to make a positive impact?
Date: Wednesday, May 24th
Location: La Kretz Innovation Campus
Time: 11:00 am – 2:00 pm
If you'd like to be a part of helping Southern California get to zero waste, please visit http://bit.ly/2qbCLr2 for more information.
---
Town Hall LA's Community Events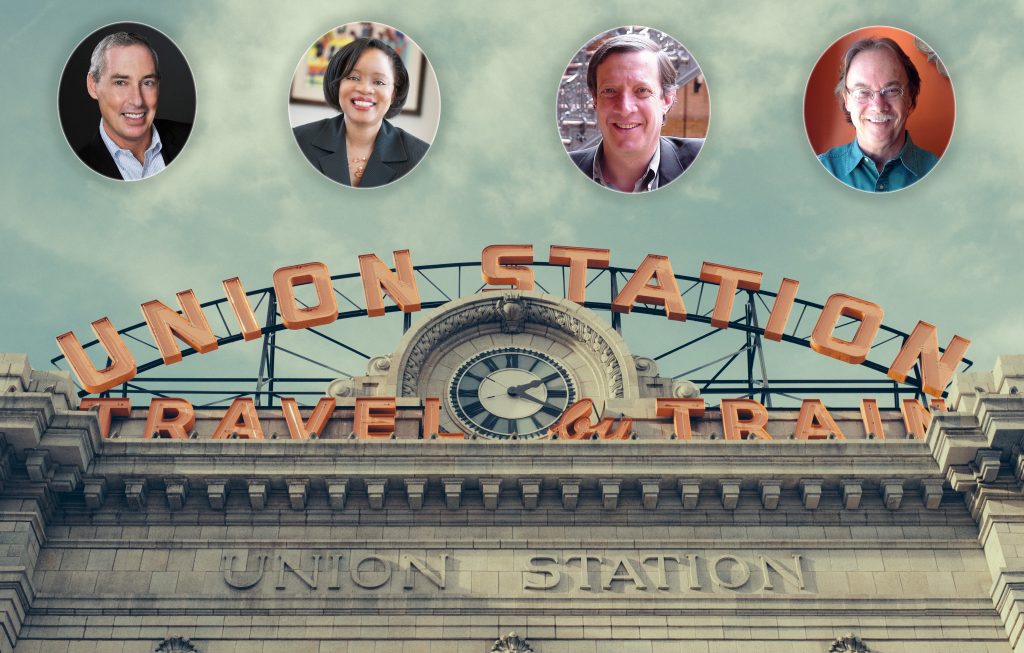 Town Hall Los Angeles is a speaker's forum that hosts enlightening events annually, including topics about public policy and politics, the economy, education, infrastructure, and other pressing issues impacting our region. As an organization with similar interests, we would like to inform you about their events that give a voice to countless issues in Los Angeles County. LAEDC members will receive $10 off each ticket when they register for any of Town Hall LA's events using the discount code THLAPartner17.  Upcoming events include:
LA Rams: A New Era in Los Angeles

May 18, 2017

11:30 am

–

1:30 pm
Members' Only Tour of "Paul Simon: Words & Music" Exhibition

May 23, 2017

2:45 pm

–

5:00 pm

The Voters Have Spoken: Ending Homelessness in Los Angeles

May 25, 2017

11:30 am

–

1:30 pm

Los Angeles' New Transportation Future

Jun 1, 2017

11:30 am

–

1:30 pm

A Futurist's Outlook for the Economy, FinTech, and Robots

Jun 15, 2017

11:30 am

–

1:30 pm
For more detailed information about Town Hall LA's events, please visit https://www.townhall-la.org/events/.
---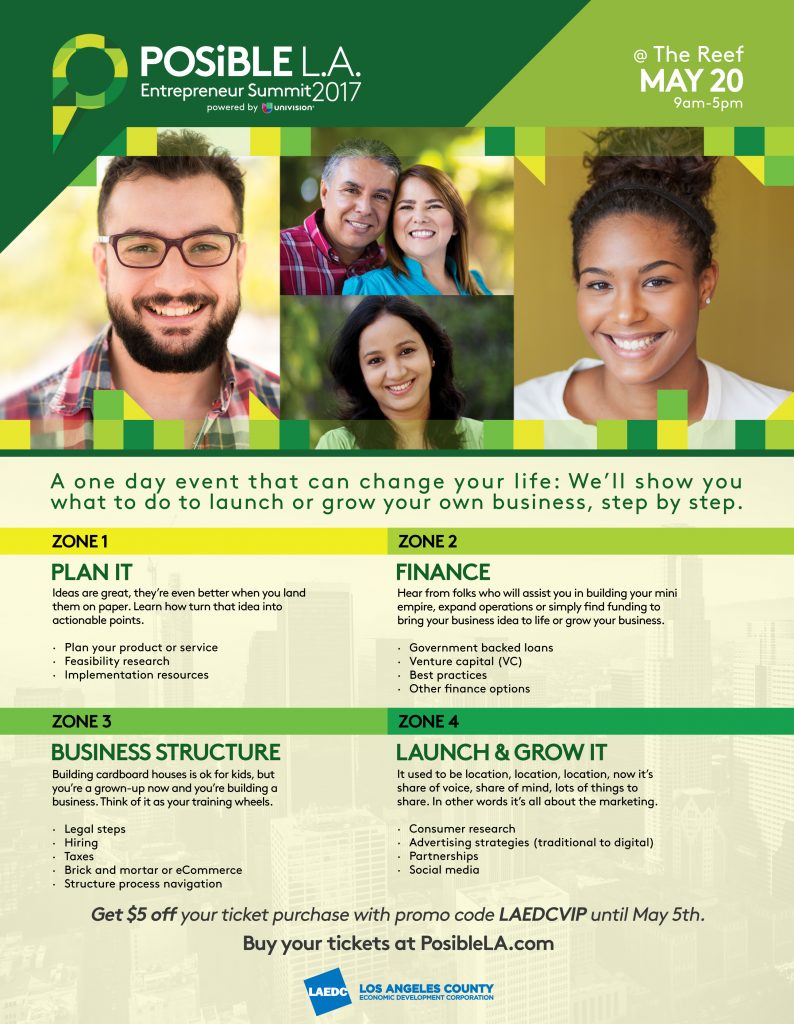 Univision: POSiBLE LA – May 20, 2017.
Univision's POSiBLE LA is dedicated to providing local entrepreneurs with critical resources such as new products, tools, platforms, industry leader keynotes, and boot camps to launch their small business. This event is dedicated to investing in the city itself by giving local Angelenos the appropriate tools to help them prosper and succeed in their business, helping the the Los Angeles economy in the future.
LAEDC Members: Use discount code LAEDCVIP to receive $5.00 off your ticket purchase, valid until May 5th.
Date: Saturday, May 20th, 2017
Location: The Reef,  Downtown L.A.
Time: 9 a.m. – 5 p.m
For more information, please visit http://posiblela.com/.
---
Baja Aerospace Trade Tour – May 21-23, 2017.
Mayor Eric Garcetti's Office of Economic Development in Partnership with the U.S. Mexico Chamber of Commerce California Chapter, U.S. Department of Commerce, U.S. Commercial Service, and California Manufacturing Technology Consulting (CMTC) will be organizing a trade tour of the Aerospace Industry in Baja California May 21st-23rd. Our goal is to take up to 20 Los Angeles Aerospace companies in order to promote exports and foster manufacturing opportunities beneficial to both countries.
Date: May 21-23, 2017
Location: El Centro, CA and Mexicali, Mexico
Application Deadline: May 12, 2017
For more information, please contact:
---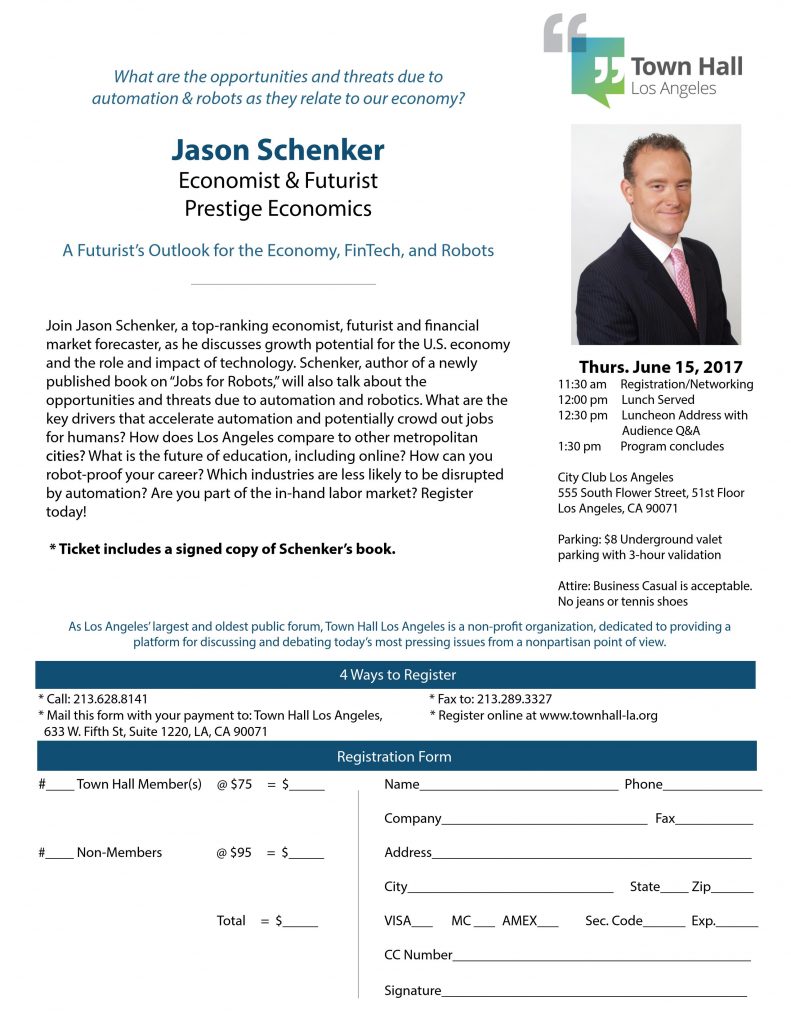 Town Hall LA: A Futurist's Outlook for the Economy, FinTech, and Robots – Jun 15, 2017. 
Town Hall Los Angeles is dedicated to promoting civic engagement in the Los Angeles community, where Jason Schenker, economist, futurist and financial market forecaster, will discuss the  growth potential for the U.S. economy, the role and impact of technology, and how Los Angeles compares to other major cities in these arenas. Author of, ""Jobs for Robots," Mr. Schenker will also go into detail  about the opportunities and threats due to automation and robotics, and this will ultimately affect our careers.
Date: Thursday, June 15th, 2017
Location: City Club Los Angeles, CA
Time: 11:30 a.m. – 1:30 p.m.
For more information, please visit http://bit.ly/2pZZB26.