Burbank Bob Hope Airport had a total economic impact of $1.8 billion in the LA County regional economy and generated 12,440 jobs, during its fiscal year 2013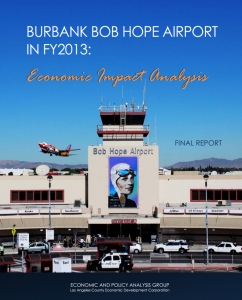 The study was researched and prepared by the Los Angeles County Economic Development Corporation (LAEDC), and was commissioned by the Airport to provide up-to-date data and analysis on the economic impact of the Airport's operations.
The findings describe total economic output in a wide variety of industry sectors by activities occurring at the Airport and by visitor spending of arriving tourists and overnight flight crews.
Of the 11,710 jobs generated by Airport operations, almost one-third were in the transportation and warehouse sector, and another 28 percent were in accommodation and food services.  Additionally, virtually all industry sectors receive a positive impact from the activities attributable to the Burbank Bob Hope Airport, including retail trade, real estate and rental activities, administrative services and health and social services. Another 730 jobs during the fiscal year were generated by Airport capital project expenditures, including construction of the $112 million Regional Intermodal Transportation Center, which is scheduled to open in July.
Other findings of the analysis were that $662.9 million in labor income was associated with the Airport's impact, $134.9 million in federal taxes, and $122 million in state and local taxes.
Included in local taxes are approximately $2 million in parking taxes paid by the Airport Authority to the City of Burbank, and $4.5 million in taxes to the City on taxable assessed value of $888 million, of which $795 million is attributable to private and airline aircraft.
During FY 2013, the Airport served 3.9 million passengers; had 50,700 airline operations; spent $67 million on capital improvements; and had an estimated 1,890 on-airport employees.
Read the Complete report HERE.