With many major studios located in Los Angeles County, such as Walt Disney, 20th Century Fox, Paramount Pictures, Dreamworks Animation, Sony, NBC Universal, Warner Bros Pictures, Lionsgate, Weinstein Company, A24 and New Regency, just to name a few, Los Angeles County is the undisputed, "Entertainment Capital of the World."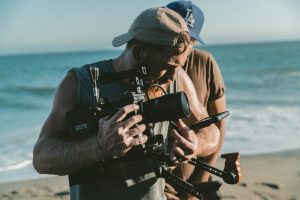 The "Creative Economy" facilitates the cross-pollination of local talents and technologies in digital media, arts and more. L.A. County is one of the most dynamic, resource-rich places to do business due to the variety of creative, entrepreneurial professionals and convergence between the technology, gaming and entertainment industries and cross pollination of their ecosystems.  Los Angeles County is the "Creative Capital of America." Details on the Creative Economy can be found in the annual Otis Report.
What does L.A. County have to offer the entertainment industry?
An employment base of over 160,000 people
A supplier base of over 13,000 companies
Remains a top region for major-studio film production
Entertainment is the third largest industry in L.A. County, providing resources for existing and new companies (source: Film Works/FilmLA)
All five major broadcast networks have studio operations in the area. Such well known programs as Dancing with the Stars, Jimmy Kimmel Live!, Gilmore Girls: A Year in the Life, Rosewood, NCIS and Black-ish are taped here along with dozens of other network and syndicated shows and specials.
The recording industry also continues to play a pivotal role in L.A. County's economy, with each of the major studios involved along with a legion of independent labels.
Digital Media:
New media including video games, web development and other interactive technologies like Virtual Reality (VR) are emerging as an important, high-growth area of this industry cluster in the County economy. L.A. has:
24 accelerators
26 incubators
104 VC firms
60+ co-working spaces
8,000+ startups
International film distribution is also a growing sector of the entertainment industry in L.A. County, with major partnerships being developed between local media companies and organizations like China Film Promotion International.  L.A. is at the forefront of new technologies and new business models for distribution and licensing, with international markets that are growing every day.
Supporting the cluster are numerous trade unions, talent agencies, and professional services specializing in entertainment clientele, particularly in the city of Beverly Hills.
Education Connection: A significant number of local colleges and universities support the industry with strong film, broadcast, animation, and music programs. Among the most highly-regarded and award winning are American Film Institute, USC, UCLA, Cal Arts, and Loyola Marymount.
Related Links:
LAEDC research confirms value of Film & TV Tax Credit